Komanova ulica
Description
The Komanova parking facility is located in the immediate vicinity of the Tuš grocery store on Komanova ulica.
The parking facility has a total of 55 parking spaces. The parking facility is intended, in its entirety, for renters who live in the area of:
Ulica Staneta Severja (Bratovževa ploščad),
Komanova ulica, and
Ulica prvoborcev.
In order to apply to rent a parking space, you must fill out the Application for renting a parking space, and send it by email to the address info@lpt.si, or by mail to the address JP LPT d.o.o., Kopitarjeva 2, 1000 Ljubljana.
Due to the current situation related to COVID-19, the application cannot be submitted in person. All received applications will be processed, and in case of a large number of applications, a waiting list will be established.
You can find the availability of parking spaces for rent, and an overview of the number of pending applications for renting a parking space here.
Price of parking
The price list and operating hours are available here.
The parking facility features a gated entrance, opened via a remote control device.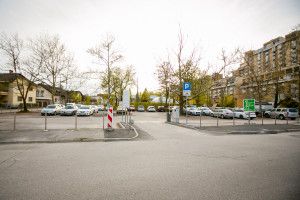 Location